Paleo Dieting 101: Paleo Recipes and Meal Ideas
Breakfast, lunch, and dinner, we've got a collection of paleo recipes and meal ideas you're going to love to cook and eat. Let's get started!
GET $135 OFF + FREE SHIPPING
Delicious and Nutritious Paleo Recipes
Are you looking for some new paleo recipes to add to your collection? Perhaps you need some inspiration to get started on the paleo diet? Either way, we've got them! Read on to find out what the building blocks of any paleo recipe are and take a look at a sample paleo meal plan, including paleo vegetarian recipes, easy paleo quick meals, paleo snacks and more. Better health never tasted so good!
Paleo Diet Foods
The Paleo Diet Briefly Explained
For those of you who may not be as familiar with the paleo diet, here is a brief breakdown of what foods your paleo meal plan will include:
Fruits: Apples, pears, bananas, berries, and more. Don't hold back and reach for seasonal options.
Vegetables: From winter squashes to summertime cucumbers and tomatoes, vegetables are a major component of the paleo diet.
Lean meat: Think roasted chicken, pan-seared pork chops, and hearty pot roasts.
Fish: Broiled salmon, tuna salad and more!
Nuts: Not only do nuts make a great snack, but nut butters and nut "flours" come in handy for paleo "baking."
Healthy oils from fruits and nuts: Use walnut or olive oil on fresh salads or fry up your chicken with coconut oil.
Natural sweeteners: Maple syrup and honey can sweeten any dish.
Spices: Just about every spice is paleo compatible, so go wild!
Now let's take a look at some ideas for healthy and tasty paleo meals.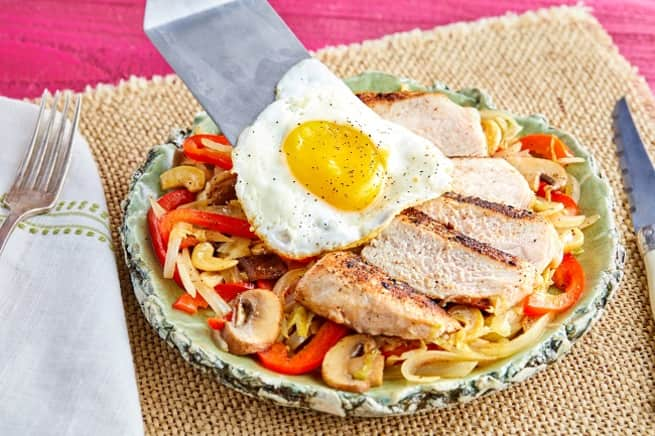 Paleo Breakfast
Paleo Breakfast Ideas
If you love breakfast, you're in luck! Eggs are allowed on the paleo diet, so whip up an omelet with spinach and onions, or use a variety of seasonal veggies that are sure to brighten up both your plate and your palate. You could also have two eggs fried in coconut oil, served with bacon and a fruit salad, or many other combinations of lean meats and veggies that'll leave you satisfied and ready for the day.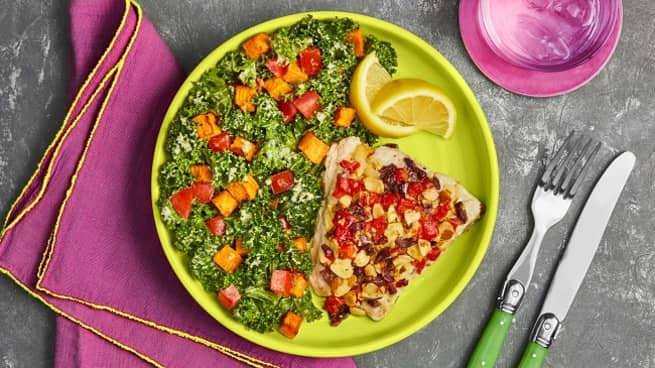 Paleo Lunch
Simple and Quick Paleo Lunches
Soup and salad, please! Paleo lunch recipes include lots of simple, quick salads. Try a bowl full of crisp romaine topped with tomatoes, cucumbers, and roasted chicken, lightly dressed with avocado oil and lemon. How about a warming tomato soup on a chilly fall day? Just be sure to steer clear of any cream based salad dressings as well as any soups with milk or cream since dairy is not allowed on the paleo diet.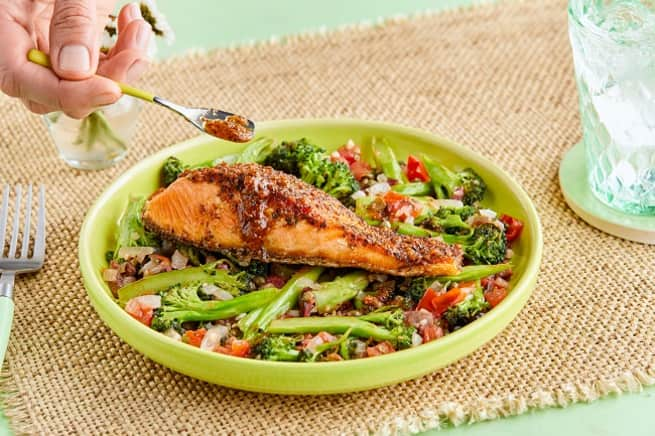 Paleo Dinner
Paleo Dinner Recipes
Dinnertime! Why not start out with paleo appetizers? Chicken wings are a fun paleo appetizer, as are bacon wrapped dates or pears. As a main dish, serve a whole roasted chicken with mashed sweet potatoes. How about baked salmon with asparagus? If it's paleo vegetarian recipes you're in need of, try a ratatouille or a cauliflower curry. Simple steam veggies make for perfect paleo side dishes.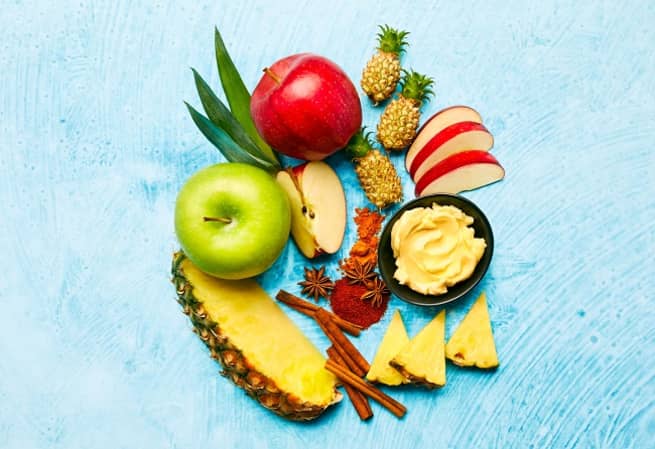 Paleo Desserts
Delicious Paleo Desserts
Just because you've cut out sugar doesn't mean you can't have a sweet treat! Try a baked apple with plenty of cinnamon. Pecans candied with maple syrup are absolutely delicious. It is also worth taking a look at some vegan dessert recipes. They lean heavily on nut butters and flours, like almond flour, and are truly tasty! Just be careful to avoid those that use any kind of grain or sugar.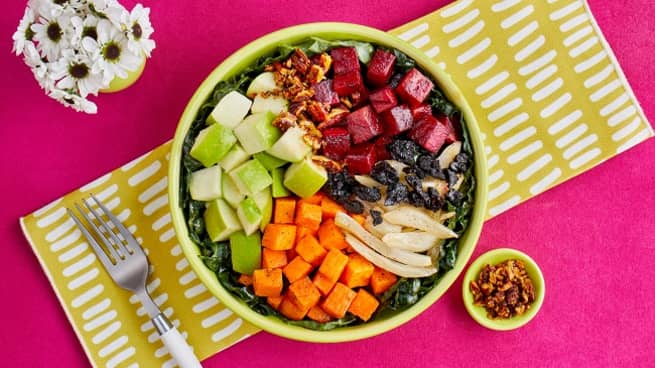 Paleo Snacks
Satisfying Paleo Snacks
We all get hungry between meals. And the paleo diet recognizes that. There is no shortage of paleo snacks that can satisfy those cravings. So if you're looking for a convenient, satisfying snack to take you to your next mealtime, reach for some carrot sticks, cucumbers, apples, pears, a handful of almonds, hard boiled eggs, or beef jerky…the choice is yours!
Green Chef
Paleo Recipes from Green Chef: Fresh and Delivered Straight to Your Door
Green Chef takes the guesswork out of the paleo diet. All of our paleo recipes are just that: 100% paleo, with the added bonus of 100% fresh ingredients. Choose from a number of delicious options – from paleo breakfast ideas to dinner recipes – and have them delivered right to your front door. We take the stress and hassle out of following a paleo diet by doing the hard work for you. Enjoy better health and delicious food with paleo meals from Green Chef!
You May Also Be Interested In
Feel Great About Your Food
Green Chef is a USDA certified organic company. We work with farmers to source sustainable, delicious ingredients.
GET $135 OFF + FREE SHIPPING